New Delhi(PTI): In a tit for tat action, Congress on Friday threatened to campaign against Prime Minister Narendra Modi abroad whenever he attacks previous governments of the country on foreign soil and said he should behave like a PM and not an RSS 'pracharak'.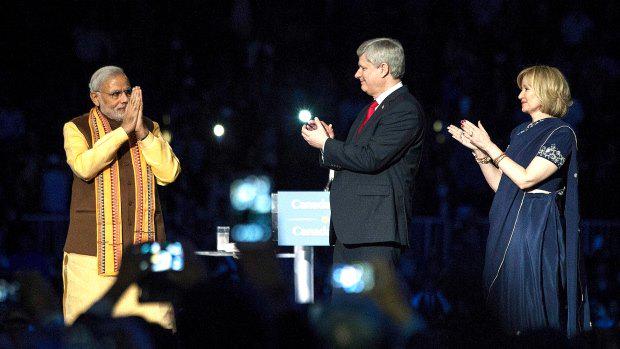 Demanding an apology from the Prime Minister, who while speaking at at an event in Canada on Thuesday accused the previous governments of creating a "mess" in the country, the opposition party said Modi should realise that he represents the country and not RSS or BJP when he goes abroad. "It shows his sick mentality. He has again broken the tradition of not taking domestic politics abroad and has again made malicious attacks on previous governments.
"We cannot tolerate such unbecoming behaviour any longer. Henceforth, if he again does so on foreign soil, a Congress leader or spokesman will be present there and will respond immediately," party spokesman Anand Sharma told reporters. He replied in the negative when asked if it would not precipatate matters between the two sides and said it woukd help bring "balance".
"The Prime Minister should apologise. We have honoured the convention so far. The Prime Minister should realise that he goes abroad as the Prime Minister of the country and not as a 'Pracharak' of the BJP and RSS," the spokesperson said. Taking an apparent dig at the previous governments, Modi had yesterday said, "Jinko gandagi karni thi, woh gandagi kar ke chaley gaye, par hum safai karenge (Those who had to create a mess, they have done so and left. We will clean it up)." Charging that Modi had painted a picture which suggested that the country was known only for corruption and scams before he came to office, Sharma said the prime minister had "lowered the dignity" of his office.
"He can even mislead Obama. That he has done", remarked Sharma when asked about citation written by the U S President eulogising the Prime Minister when international magazine Time picked Modi as one of its 100 Most Influential People. In the citation, Obama has referred to Modi's ascent from humble origins —"from poverty to Prime Minister"— and his resolve to deliver on the pledge of development.
"Determined to help more Indians follow in his path, he's laid out an ambitious vision to reduce extreme poverty, improve education, empower women and girls and unleash India's true economic potential while confronting climate change," Obama wrote. Sharma claimed that Modi government has actually "drastically reduced" the outlays for education, especially primary education, mid-day meal scheme, women and child development and SC and tribal sub-plan.