Ottawa(web team): Marking the first standalone bilateral visit in 42 years, Prime Minister Narendra Modi arrived in Canada where the focus will be on setting a "trajectory" in ties through cooperation in energy, including civil nuclear, and attracting trade and technology for India's development.
The Prime Minister flew into here from Germany where he laid emphasis on attracting technology and investments for 'Make-in-India' programme. With his focus on the programme, Modi is expected to invite Canada to partner in this endeavour by sharing technology and pumping in investments.
The Prime Minister will also be meeting officials of the Pension Fund of Canada which has the corpus of 200 million dollars and discuss how to ease the investment opportunities for it.
He will also address the Indian community in Toronto, which is billed to be on the lines of the famous Madison Square address in New York last year.
India, Canada to resume cooperation in nuclear sector: PM Modi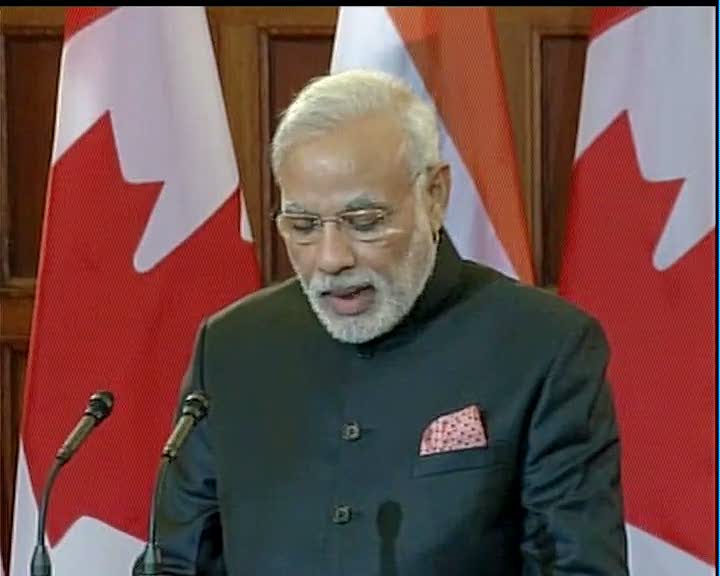 India and Canada will resume commercial cooperation in the civil nuclear energy sector after decades, Prime Minister Narendra Modi said on Wednesday while hoping his visit would act as a "springboard" for taking the bilateral relationship to a new level.
"During this visit, our two countries will resume commercial cooperation in civil nuclear energy after decades. This will be a defining symbol of our mutual trust and understanding, and of our willingness to look beyond the boundaries of the past to the opportunities of the future," Modi wrote in an opinion piece in the Canadian paper The Globe and Mail.