Vancouver(ANI)Prime Minister Narendra Modi and his Canadian counterpart Stephen Harper visited the Laxmi Narayan temple and the Gurdwara Khalsa Diwan at Ross Street in Vancouver, with the city's Sikh community hailing his visit as 'historic'.
Modi prayed at the temple, with the priest applying tika on his forehead. Later, he addressed his supporters, stating that Hinduism is not a religion but is a way of life.
"I bring greetings from 1.2 billion Indians to the 1.2 million Indians living in Canada. In India, the Supreme Court gave a superb definition for Hinduism: they said that it is not a religion but a way of life: how to live in synchrony with nature," the Prime Minister said.
From the temple in Vancouver. pic.twitter.com/e6kw9ayuT0
— PMO India (@PMOIndia) April 17, 2015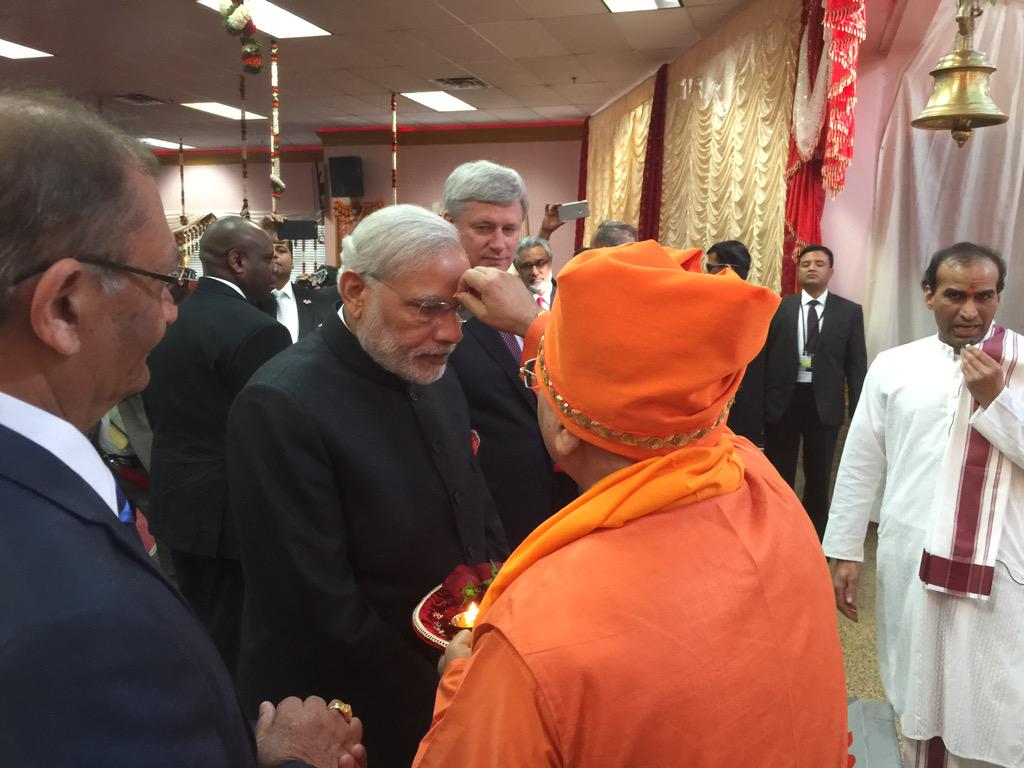 Prime Minister Modi also spoke about the upcoming first International Yoga Day. "Last year in September, I spoke at the UN General Assembly for the first time and requested that June 21 be celebrated as International Yoga Day. The UN has agreed to this and 177 countries have become its co-sponsors," he said.
"It is good if people of Indian origin help in the spread of yoga. Yoga is very essential to guide humanity, for mental peace and good health," he added.
Earlier in the day, Modi visited the Gurdwara Khalsa Diwan at Ross Street. He will later attend an official dinner hosted by his Canadian counterpart Stephen Harper, before departing for India.
In Vancouver, @pmharper & I prayed at the Gurudwara Khalsa Diwan. pic.twitter.com/Ovuoo0eza1
— Narendra Modi (@narendramodi) April 16, 2015
Covering his head with a saffron cloth, Prime Minister Modi was accompanied by Khalsa Diwan Society president Sohan Singh Deo, who took him around the Gurdwara.
"My relationship with you all is a blood relation because one of Guru Gobind Singh's 'Panj Pyare' came from Gujarat. We are people who know how to 'give'. The Sikh culture laid the foundation of love and sacrifices in India. Taking inspiration from Bhagat Singh, so many Sikh youngsters devoted themselves to the freedom struggle," Prime Minister Modi said, while addressing the devotees at the Gurdwara.
"The Sikh community came here as farmers, has worked hard and has earned the respect of the people of Canada. India is respected in Canada and this is due to your efforts. Wherever we are, let us do things that bring pride to our nation," he added.
Prime Minister Modi further said that when he was the chief minister of Gujarat, his government had renovated a Gurdwara in Kutch after it was damaged during the 2001 earthquake.
As a result of the Gujarat earthquake in 2001, the Gurudwara Shri Lakhpat Sahib had been damaged, where the Guru Nanak Paduka is kept. The Gujarat government reconstructed the Gurdwara in the traditional design. God just gives us a direction; the rest we must fill on our own. We should fill it with colours of humanity and serve mankind.
Later, Prime Minister Modi and Prime Minister Harper were gifted Sikh ceremonial swords and Saropas by the Gurdwara committee.
"This is a very significant visit... [and] a big occasion for Khalsa Diwan Society and the community. The Indian community is very happy, and they are going to welcome Prime Minister Modi open heartedly. It is a historic day for the community," Deo said.
Prime Minister Modi's trip to Canada is the first bilateral visit by an Indian Prime Minister in 42 years.